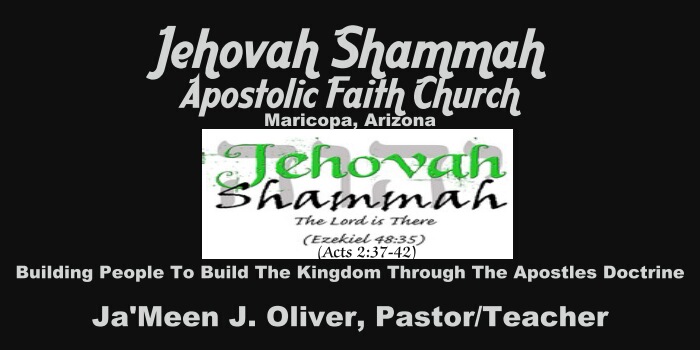 Our Church B.E.L.I.E.F.S
Basic Elemental Lifestyle In Efficiency For Salvation
The Jehovah Shammah Apostolic Faith Church is a body of believers that adhere to, believe, preach and teach the Doctrine of the Apostles, given by our Lord Jesus Christ. The core of our belief is that JESUS CHRIST THE SON OF THE LIVING GOD. Our mandate for salvation is Repentance, Baptism in Water in the Name of Jesus Christ for the removing of sin, and receiving the gift of the Holy Ghost with the evidence of speaking in tongues as the Spirit of God gives utterance. (St. Luke 24:44-53, Acts 2:4, Acts 2:37-42, Acts 4:12). We believe in holy living and the rapture of the Church, most of all we believe in LOVE for all mankind, for this is the greatest commandment.
We adhere to the Sacraments of the Church such as Communion, Foot washing, Water Baptism, Anointing with Oil, Fasting, Prayer and Giving.
Our Vision is to be a caring and nurturing body of Believers where Men, Women and Children can come be fulfilled through the Word of God.. We strive to love without strings attached. We understand that Heaven is a prepared place for a Prepared People, and through this Ministry we strive to be among those counted.