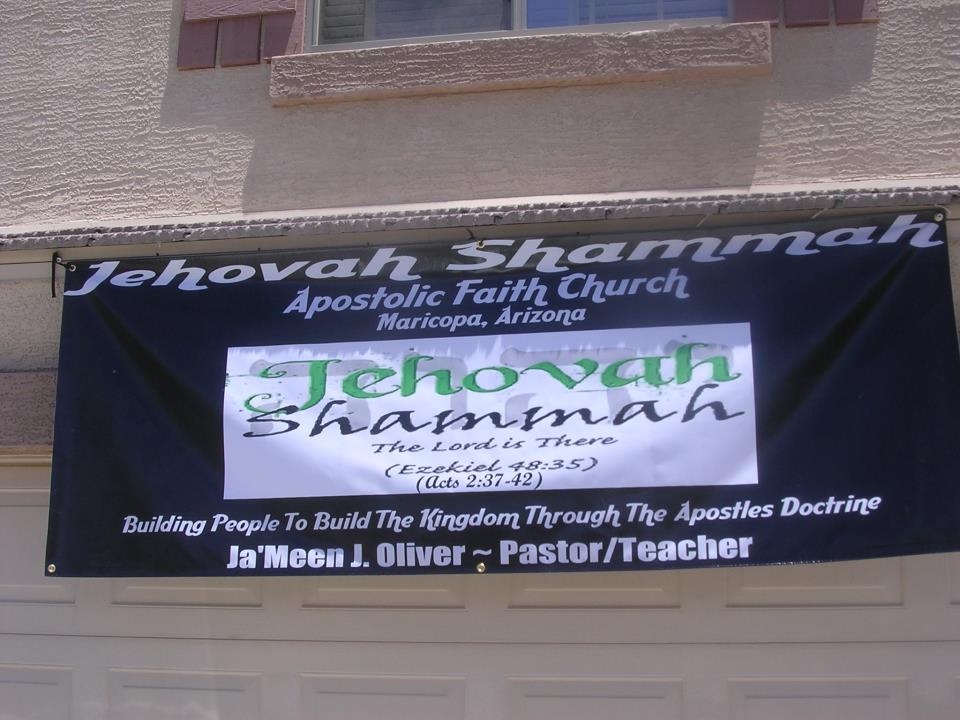 Ever times and situations that though you don't know how it is working out?
Thus begins the history of Jehovah Shammah Apostolic Faith Church.
In October, 2011 as a Chef and Director of a kitchen, Elder Ja'Meen Oliver was without a cook for the last shift of the day. Due to this unforeseen circumstance, he began a rigorous schedule of working both shifts from 5:30 am until the closing of the kitchen at 7:30 pm not including paperwork and other responsibilities neglected by the task of having to prepare and serve 3 meals a day, 7 days a week to 108+ people. The culmination of total hours in a week ranged from 96-110 hours a week. During this time Sister Crystal Nelson, Godmother of Elder Oliver, in a random phone conversation mentioned that there was a woman who had applied for a cook position at the sister facility of the same company worked at by both Sister Nelson and Elder Oliver. Elder Oliver brushed this off as just idle conversation not knowing the plan of God was in motion
After another month (November) during another conversation, the woman came back into Elder Oliver's mind when he asked Sister Crystal "Did they ever hire that lady?" when the answer came back as No, Gods will began to start clearing up. After receiving the woman's number from Sister Crystal, Elder Oliver called the number given and for 2 weeks didn't get an answer, however with one last attempt contact was made with this woman. Her name was Sister Tonia Smith. After meeting and agreeing to an interview, Sister Tonia was hired on at the facility where she HAD NOT applied, for a position that was very menial to her vast experience, however what God ordains he maintains. After months of working it was realized that Sister Tonia and Elder Oliver had the same beliefs in the Apostolic Faith, as an international Evangelist, Elder Oliver had no plans on slowing down to assume a Pastorate, however after being asked by Sister Tonia to begin a Apostolic work in Maricopa, God began to set things in order. After conferring with his Pastor, and his Mother in the Gospel, Pastor Velma Hamilton, Pastor Oliver resigned from the Dominion Harvest Christian Church to begin the work in Maricopa, Arizona, The first service on March 18th, 2012 drew over 20 people excited to hear the word of God and God moved in a mighty way. About 2 weeks later on Easter Sunday 2012, God reminded Elder Oliver of a name he had given him when he was 18 years old. It is based out of Ezekiel 48:35b ,the Prophet Ezekiel declared that "the name of the city from that day shall be, The Lord is there." The Christian transliteration of "The Lord is there" is JEHOVAH SHAMMAH.
Since the inception, services were held in the home of Missionary Tonia, and Brother Ricky Smith, until once again by the divine providence of God, Pastor Oliver by "accident" stumbled upon a worship space. The owners of the building were contacted, a contract was drawn up and Jehovah Shammah celebrated the acquisition of this new worship space with a fellowship Sunday service that drew over 100 people.
The location is 41600 West Smith Enke Rd. in Maricopa, AZ where our Sunday Services are held.
God has blessed and added souls to Jehovah Shammah Apostolic Faith Church. He has worked miracles from Healing, to releasing finance to miraculously restoring one of the Brothers of our church from brain surgery in record time. God is truly present with us and we are looking forward to all that is in store for the People of God in Maricopa.